..

SANA is a registered NGO in Kenya established from the former Rural Domestic Water Supply and Sanitation Programme (RDWSSP), a bilateral programme between the Government of Kenya (GoK) and the Government of the Netherlands (GoN), which ran between 1983 and 2001.
SANA was developed to encourage water and sanitation development in Nyanza region.
The former programme, RDWSSP reached out to 3,000 communities and facilitated the installation of 16,400 latrines and 1,500 water points in all districts of Nyanza Province. (See map on the right). SANA has prepared a 5 year plan to implement a further 1,000 water points and 10,000 sand units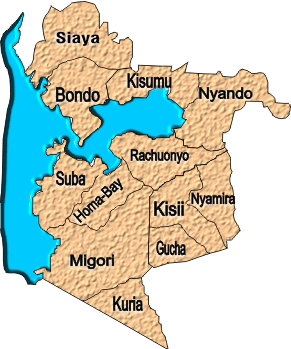 Districts covered by SANA in Nyanza Province
Interest in the sector has been growing over the years through campaigns both nationally and internationally leading to formulation of Vision 21, PHAST and the emergence of the new water policy in Kenya, Sessional Paper No. 1 (1999) on Water Resources Development and Management.
The immediate stakeholders in the former RDWSSP garnered support and established SANA, which was registered in October 2000. Since then efforts towards positioning SANA within the water and sanitation sector have attracted considerable attention from patner stakeholders, including the local community and leaders from Districts in the Province.

Must be demand driven


Community mobilisation and capacity building, are part of all interventions........................................

Networking, planning and quality control monitoring take place throughout the project cycle


SANA builds on existing institutional and social structures are part


Programmes developed must be community based and integrated in nature


Communities contribute for all Operation and Maintenance (O&M) costs


Programmes must be participatory and gender sensitive approaches used at all levels.


Programmes developed and supported must be pro-poor


They must be environmentally friendly and sustainable


They are clustered geographically to meet economies of scale


Agencies active in the same geographical area are consulted so as to prevent duplication


Sana subscribes to the view of VISION 21, which proposes a sanitation and hygiene revolution at global ...levels as a means to real health improvements
Copyright © 2002, Welcome to the www.sana.ws web site.SANA is a Non Governmental Organisation registered in Kenya
BASIC PRINCIPLES

SANA fully endorses the partnership approach, that partners with government institutions, research institutions, communities and donors.
The basic principles of SANA's interventions are:
SUSTAINABLE AID IN AFRICA INTERNATIONAL
..ABOUT SANA